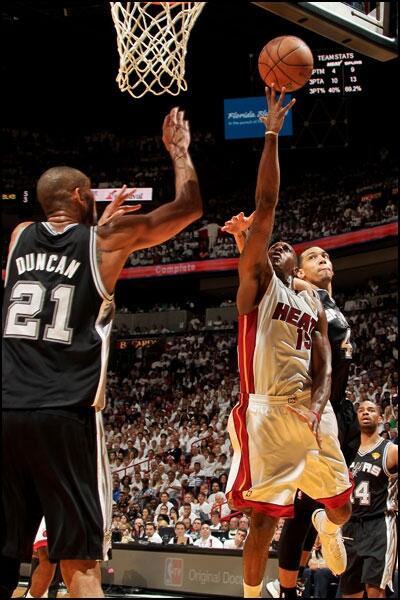 Mario Chalmers
attacking off the pick-and-roll with
LeBron James
was the biggest adjustment on offense for the Miami HEAT in Game 2. The biggest improvement on defense came in the post against
Tim Duncan
.
This Game 1 recap
identified 4 key adjustments the Miami HEAT could make in Game 2 based on stats from
mysynergysports.com
. This post analyzes how they did in those 4 areas.
Offensive Adjustments from Game 1
Chris Bosh
:
Finishing off the pick-and-roll in the paint? Bosh didn't roll to the paint off picks in Game 2. He popped out for jumpers on 3 pick-and-rolls and made 2 of them.
Getting some baseline cuts like the Birdman? Wade fed him for a dunk after a baseline cut in the 1st quarter.
LeBron James: More opportunities in transition? LeBron scored 6 points from 4 opportunities in transition (his season averages) which was an improvement from the 2 points on 2 plays in transition he got in Game 1.
Dwyane Wade
: Replacing his isolation offense? Mario Chalmers averages 2 points on 2 pick-and-rolls per game this season, but he scored 10 points on 8 pick-and-rolls in Game 2 after scoring just 2 points on 4 pick-and-rolls in Game 1. That was more than enough to replace the lost scoring from Wade's isos.
Defensive Adjustments from Game 1
Better job guarding Spot ups? The Spurs scored 29 points on 24 spot ups in Game 2 after scoring 34 points on 30 spot ups in Game 1. They average 23 points on 22 spot ups this season.
Better post defense on Tim Duncan? Duncan only scored 3 points on 7 post ups in Game 2 against
Udonis Haslem
(0-3), Bosh (2 points on 2 plays) and Birdman (1 point on 2 plays) after scoring 8 points on 5 post ups in Game 1. The HEAT reduced the most efficient post up offense in the NBA this season to
playing like the 13th-ranked post up offense in Game 2
.
What to Expect in Game 3?
I would expect LeBron to continue to be a force in transition and reach his season averages. The pick-and-pop and baseline cuts will always be there for Bosh. I would be surprised if the Spurs continue to allow Chalmers to dominate them in the pick-and-roll like he did in Game 2 after struggling in Game 1.
On defense, I expect the Spurs to continue scoring off spot-ups at a rate that would rank 1st in the NBA. It seems like the HEAT are conceding those shots to them. I expect the defense in the post to be as tough as it was in Game 2, but it will be interesting to see if Duncan responds with a hall-of-fame scoring effort or continues to struggle.