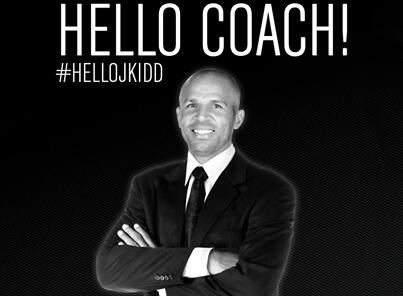 Nets owner Mikhail Prokhorov
said
he wants to win an NBA championship by 2015. He and Billy King must think
Jason Kidd
will be 1 of the greatest coaches of all-time for that to happen.
Only 5 coaches in NBA history have won an NBA championship in the first 2 years of their first coaching job: Eddie Gottlieb,
Buddy Jeannette
,
George Senesky
,
Alex Hannum
and
Bill Russell
.
Eddie Gottlieb
Gottlieb was the owner and coach of the Philadelphia Warriors in the Basketball Association of America (BAA later joined the National Basketball League to create the NBA). Before coaching the Warriors, he had experience coaching neighborhood sports teams,
according to Wikipedia
. In his 1st season as coach, the Warriors won the 1947 BAA championship with the league's leading scorer,
Jumpin' Joe Fulks
.
Barring a shocking turn of events, Kidd won't have the leading scorer in the NBA on his roster next season.
Brook Lopez
came the closest at
10th in points per game
. Maybe he he can rely on a lot of AAU coaching experience and the time spent with Mike Krzyzewski coaching Team USA for the 2012 Olympics to compensate for a lack of talent.
Buddy Jeannette
Jeannette is the first player-coach to win a professional championship,
according to Wikipedia
. He led the Baltimore Bullets to the 1948 BAA title as player-coach after winning 3 championships in the NBL as a star guard. Jeannette was named to 4 NBL 1st-Teams and considered the NBL and BAA's premier guard from 1938 to 1948.
Kidd's a lot like Jeannette: a 10-time all-star, Hall of Fame guard that knows the game and got into coaching at the end of his career. Will he get the same result as Jeannette?
George Senesky
Senesky was a former BAA guard that took over coaching the Warriors after Eddie Gottlieb and won the 1956 NBA championship in his 1st year on the job (see
Wikipedia
for more info). His job was made considerably easier with 3 Hall-of-Famers on the roster: star rookie guard
Tom Gola
, high scoring all-star forward
Paul Arizin
and perennial all-star center
Neil Johnston
.
Unless Billy King makes some of the greatest trades in NBA history, Kidd won't have 3 Hall-of-Famers on his roster next season.
Basketball-reference.com
only lists 2 Nets players with greater than a 1% chance of making the Hall of Fame:
Deron Williams
(24%) and
Joe Johnson
(17%).
Alex Hannum
Hannum won his 1st title in his 2nd season coaching the St. Louis Hawks over the Boston Celtics in the 1958 NBA Finals. The Hawks lost to the Celtics in the NBA Finals the previous season, when Hannum was a player-coach. It was easier to win it his 2nd year because Bill Russell went down with a foot injury in Game 3 of the Finals and couldn't play for the rest of the series. In addition to Russell's foot injury in the 1958 Finals, Hannum's job was made easier by coaching 4 Hall-of-Famers:
Bob Pettit
(who scored 50 points in the deciding Game 6 of the 1958 Finals),
Cliff Hagan
, Easy
Ed Macauley
and
Slater Martin
. See
Wikipedia
for more info on Hannum.
Nets GM Billy King has a lot of work to do to get Kidd the kind of talent Hannum coached in his 1st two seasons and a lot of prayers to send hoping their opponents' best players go down with injuries in the playoffs.
Bill Russell
Russell led the
1st team in NBA history to come back from a 3-1 series deficit
to upset the defending champion 76ers in the 1968 Eastern Division Finals and go on to win his 1st title in his 2nd season as player-coach. Like Hannum, Russell had 4 Hall of Famers on his roster:
John Havlicek
,
Sam Jones
,
Bailey Howell
and Russell himself.
Get to work Billy King.
Criticism
I think Kidd has enough knowledge after 19 seasons of playing in the NBA and spending the last 2 Olympics working with Krzyzewski to be a head coach in the NBA, but I wouldn't have hired him to be the head coach for my franchise.
The problem with hiring Kidd is that he's a drunk driver and woman-beater that will have to get in front of the media at least 250 times a season. That would be too big a risk for me to take with my franchise, but King and Prokhorov feel differently, I guess. The Warriors had success after hiring a preacher and a whore-monger, but at least 1 of those 2 isn't despicable (depending on your point of view).
I can see Jason Kidd's coaching tenure ending like
Isiah Thomas
' run as coach and GM of the Knicks - with pissed off fans and million dollar lawsuits.